!onMouseover Link CSS Script-© Dynamic Drive (www.dynamicdrive.com). For full source code, installation instructions, 100's more DHTML scripts, and Terms Of Use, visit dynamicdrive.com-->

Welcome!!
As you can see, here at

, we've undergone alot of changes lately, please everyone let me know what you think of our new look!! I'll be working on this project for the next few weeks, so please be patient with it!
This site originally started out as a UC Shipper site for W/A/S, but seeing as it has grown into so much more, I thought the changes in content warranted a change in the look! :) Don't worry - I still am focusing on W/A/S (how could I not?!), I've just decided to include other things as well. Let me know what you guys think!!!!
~ Po




[ Sign my GuestBook ] - [ Read my GuestBook ]
[ GuestBook by TheGuestBook.com ]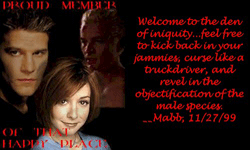 Please take note that Spike, Willow, Angel, and all other characters are from the show Buffy the Vampire Slayer and belong to the shows creator Joss Whedon and Fox Broadcasting. This site is not intended to infringe upon copyrighted material. This site lays no claims to the show, any of its characters, or anything involved with the show.